RUNES, A Review of Poetry,
2001–2007

Over seven years and seven issues, RUNES grew into an anthology in which we take great pride. The poems themselves came first, but after that, one of our major goals was to treat other poets as we wish to be treated when we submit our poems. We wanted to create a kind of virtual extended family and community of poets.
– CB ('Lyn) Follett and Susan Terris
---

OCEAN
From a dream you murmur, I am an ocean.
This would explain why
you taste like salt. This would explain
the nightly rise and fall of your breath,
the difficulty in pulling away
from you. The sway of the moon
along your body. Small wonder,
I want to hold you
so close, so deep.
Wake me waves.
To the south of your mouth I lie shipwrecked.
Gentlest light come down like moonglow.
My meditation. My 3 a.m.
Dear mystery, dear blue,
I'll wait for you
on any shore your waves might break.
Poem by Gary Short from "RUNES, A Review of Poetry, Connection."
---
RUNES AWARD COMPETITION WINNERS
2002: Andrew Miller – judged by David St. John
2003: Mark Chapman – judged by Li-Young Lee
2004: Andrea Hollander Budy – judged by Jane Hirshfield
2005: Sandra Marguilius – judged by Lucille Clifton
2006: Jill Marie Drumm – judged by Mark Doty
2007: Susan Tichy – judged by Brenda Hillman & Robert Hass


---
IT'S NOT NICE TO ANNOY THE EDITORS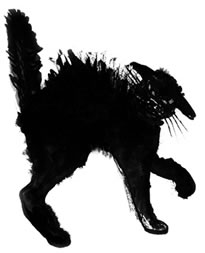 Many readers of RUNES told us how much they enjoyed the following, so here it is again, more or less as it was originally printed.

People sometimes ask us what we have learned as editors about submitting our own work. Well, some of the things we've learned are probably well understood by most poets, but often forgotten. The truth is that RUNES receives an overwhelming number of poems and of those almost all are poems of great beauty and quality. In our case, each poem is read at least twice and the closer they come to acceptance the more they are read. A poem accepted for RUNES has probably been read at least ten times and those in the pile of last few chosen even more. Of course we are looking for excellence, but we must also keep in mind the theme, the variety on the theme, short and long, narrative, lyric, philosophical, and the shape of the book RUNES will become. Sometimes a poem we love and want will lose out at the last moment because it just doesn't seem to fit in the overall make-up of the book. Maybe the tone is too different, or the theme duplicates too closely.

Speaking only for ourselves, here are some of our particular no-nos. (Other editors may not feel the same.) While we do not hold any of these against the poem itself, still it is annoying and it's not nice to annoy the editors…

• SASEs are required. We like to write a note on our slips that inform poets "not this year". This is one of our ways of showing the importance to us of our poetry community. No SASE, we must then resort to emails – time consuming and impersonal. If no email and no SASE, then we can't respond. Contest entrants seem particularly likely to ignore the SASE. Maybe they think their check should be enough, but (see above).

• Checks that bounce. Of course this can happen to any of us, but each bank check costs us a bank fee and often the check and fee are never redeemed. It's not nice to cost the editors money.

• Submissions that come without an SASE!

• Tiny return envelopes – Often difficult to stuff everything in.

• Submissions that come with cardboard stiffening… (these do not fit in our postal box)

• Submissions that require a signature

• Submissions that come with postage due… (not only annoying but costly) Most of the above require a special trip to the post office to stand in long lines.

• For contests, please clip the check to the entry. If we don't find the check we don't know it is to be a contest entry. Sometimes checks fall out a month later from who knows where. We hold each envelope up to the light, and look inside before throwing it away. Good thing, because often a check is floating around in there.

• If you are including a contest and a regular submission in the same envelope, please include two SASEs. While we consider both entries equally, we do not keep them in the same pile and with some 2000 entry packets …well you can imagine.
• If you have to withdraw a poem or poems for any reason, please do not send substitute poems. Too confusing. Hard to put together with original entry.

• Do not send revisions. Same reasons as above. If your poem is accepted, we can consider revisions, but remember we took your poem because we love it, and revisions may or may not improve it in our eyes.

• Please don't send more than 5 poems per entry. We sometimes receive packets of 20-40 poems. If you want to send more, send a second entry of up to 5 poems.

• We do not have page limits or line limits, but judge the poem on its own merits so please send us 12 pt. type so we can read it. We are reading a lot of poems, and trying to read them with respect.

• We have a reading period, which ends with a May 31st postmark. It is the postmark that matters. It doesn't matter if your cover letter is dated May 24th, if the postmark says June 1st or 12th, it is too late.

• We used to wait until the last minute to send in our own contest entries but we've changed our tune. Over 50% of RUNES entries come in the last week.
By then we are tired and overwhelmed. We have seen many wonderful poems throughout the reading period. Last minute entries are competing with enormous number of poems. We try to read everything fairly and great poems always rise to the surface but…give your poems a good chance and send them in a bit earlier.

• Be sure your name appears somewhere other than just the envelope. Information should be on every regular submission poem. Contest poems have no ID so should have a cover sheet with communication information. Somewhere your name should be typed or printed. We want to communicate with the correct name and sometimes we can't read the signature.

• Simultaneous Submissions: Sometimes it is very hard to learn that a poem we are keen to accept has been snatched from our pile of yeses by some other discerning editors, but we believe in the right of poets to submit poems elsewhere. We just ask that you let us know ASAP.

• Previously published poems do not qualify for consideration by RUNES. Please do not send them. Please do not think we won't notice. These things tend to catch up eventually. In one recent case a poem we published turned up a month later in another journal on a page facing a poem by one of us!! Oops….

Okay, those are just some hints we hope you will find helpful. The bottom line remains: thank you for your wonderful work, for sending it to RUNES, for rejoicing with us when a poem is accepted, for understanding when we can't take one. The RUNES community is important to us, win, lose, or "close."
Thanks!
'Lyn & Susan
---
SPECIAL OFFER FOR RUNES, A REVIEW OF POETRY
Is there some issue of RUNES you don't have and want to own?
Do you want a complete set of all seven issues of RUNES
for yourself, for a school or library?

Past issues of RUNES $5. Plus $2.50 postage and handling.
Complete set of all 7 issues of RUNES: $30 Plus $4 postage and handling.

Please send checks to RUNES, Arctos Press,
P.O. Box 401, Sausalito, CA, 94966
---
---