Under a Dare-Anything Moon
(postcard poems sent through the mail)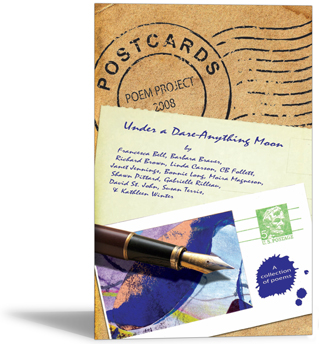 Listen to the hyenas sing –
and lions rumble their throaty drums,
as snakes slither

through the grasses

like violins –


---
and slowly
rain cedes to sun
light through the rafters.
My heart, withstanding,
survives.

---
POETS CONTRIBUTING TO
UNDER A DARE-ANYTHING MOON:
Francesca Bell, Barbara Braver, Richard Brown, Linda Carson, CB Follett, Janet Jennings, Bonnie Long, Moira Magneson, Shawn Pittard, Gabrielle Rilleau, David St. John, Susan Terris and Kathleen Winter.